Atlas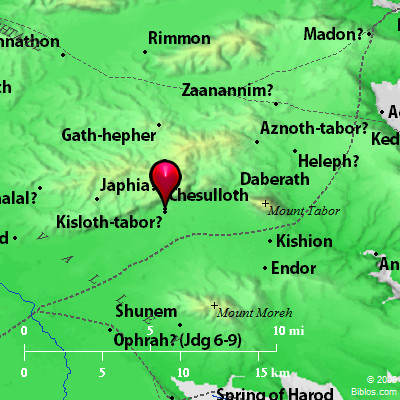 ---
Maps Created using Biblemapper 3.0
Additional data from OpenBible.info
Occurrences
Joshua 19:18
Their border was to Jezreel, Chesulloth, Shunem,
Encyclopedia
CHESULLOTH
ke-sul'-oth (ha-keculloth; B, Chasaloth, A, Achesaloth): A town on the border of Zebulun (Joshua 19:18), the same as Chisloth-tabor (Joshua 19:12). It is represented by the modern village Iksal on the northern edge of Esdraelon, circa 3 miles West of Mt. Tabor.
---
CHESULLOTH (pron. kesul'loth), also Chisloth-ta-bor (pron. kis'loth), the place was in Issachar, 60 ms. n. of Jerusalem, now Iksal, a small village 3 ms. w. of Mt. Tabor.
Strong's Hebrew
H3694: Kesulloth
a place in Issachar