Atlas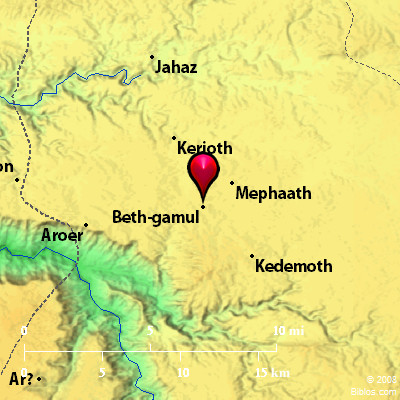 ---
Maps Created using Biblemapper 3.0
Additional data from OpenBible.info
Occurrences
Jeremiah 48:23
and on Kiriathaim, and on Beth Gamul, and on Beth Meon,
Encyclopedia
BETH-GAMUL
beth-ga'-mul (beth gamul; oikos Gaimol; Codex Sinaiticus, Gamola): A city in Moab named with Dibon, Kiriathaim and Beth-meon (Jeremiah 48:23). Conder places it at Umm el-Jamal, toward East of the plateau, S. of Medeba (HDB, under the word). Others (Guthe, Kurz. bib. Worterbuch, under the word; Buhl, GAP, 268, etc.) favor Jemeil, a site 6 miles East of Dhiban. Since the town is not mentioned among the cities of Israel Buhl doubts if it should be sought North of the Arnon.
---
BETH-GA'MUL, the supposed site is at Um el Jemal 70 ms. n.n.e. of Jerusalem. The Scripture name means house of the camel, but the Arab name, mother of the camel. It is doubtful that this is the true site for it was in Moab and there is no proof that this region was ever called Moab, it must have been nearer the Dead Sea. It is mentioned only in Jer. 48:23.
Strong's Hebrew
H1014: Beth Gamul
"place of recompense," a place in Moab