Atlas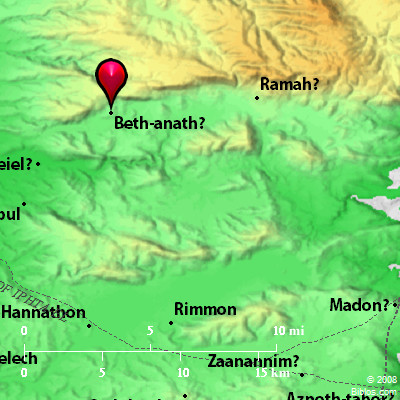 ---
Maps Created using Biblemapper 3.0
Additional data from OpenBible.info
Occurrences
Joshua 19:38
Iron, Migdal El, Horem, Beth Anath, and Beth Shemesh; nineteen cities with their villages.
Judges 1:33 Naphtali didn't drive out the inhabitants of Beth Shemesh, nor the inhabitants of Beth Anath; but he lived among the Canaanites, the inhabitants of the land: nevertheless the inhabitants of Beth Shemesh and of Beth Anath became subject to forced labor.
Encyclopedia
BETH-ANATH
beth-a'-nath (beth`anath; Bainathath): A city in the territory of Naphtali, named with Horem and Bethshemesh (Joshua 19:38 Judges 1:33). It is represented by the modern village Ainatha, about 12 miles Northwest of Cafed. The name signifies the "house" or "temple" of Anath, a goddess of the Canaanites.
---
BETH-A'NATH, was probably at the place called Ainatha 6 ms. n.w. of the waters of Merom, 93 ms. n. of Jerusalem.
Strong's Hebrew
H1043: Beth-anath
"temple of Anat," a place in Naphtali