Atlas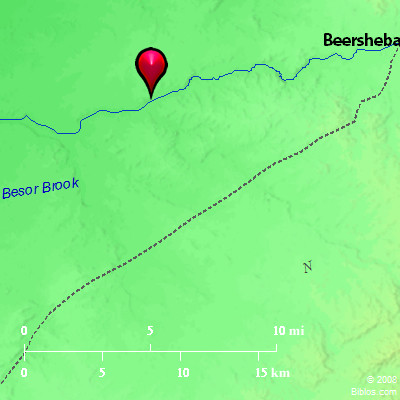 ---
Maps Created using Biblemapper 3.0
Additional data from OpenBible.info
Occurrences
1 Samuel 30:9
So David went, he and the six hundred men who were with him, and came to the brook Besor, where those who were left behind stayed.
1 Samuel 30:10 But David pursued, he and four hundred men; for two hundred stayed behind, who were so faint that they couldn't go over the brook Besor.
1 Samuel 30:13 David asked him, "To whom do you belong? Where are you from?" He said, "I am a young man of Egypt, servant to an Amalekite; and my master left me, because three days ago I fell sick.
1 Samuel 30:21 David came to the two hundred men, who were so faint that they could not follow David, whom also they had made to stay at the brook Besor; and they went forth to meet David, and to meet the people who were with him. When David came near to the people, he greeted them.
Encyclopedia
BESOR, THE BROOK
be'-sor, (nachal besor; Codex Alexandrinus, Bechor, Codex Vaticanus, Beana; 1 Samuel 30:9, 20, 21; Josephus, Ant, VI, xiv, 6): A torrent-bed (nachal) mentioned in the account of David's pursuit of the Amalekites. Thought to be Wady Ghazza, which enters the sea Southwest of Gaza.
Strong's Hebrew
H1308: Besor
a stream in Palestine