Atlas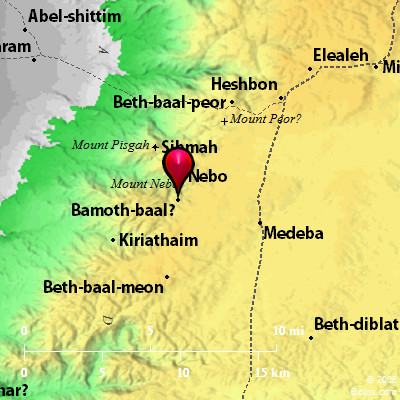 ---
Maps Created using Biblemapper 3.0
Additional data from OpenBible.info
Occurrences
Numbers 22:41
It happened in the morning, that Balak took Balaam, and brought him up into the high places of Baal; and he saw from there the utmost part of the people.
Joshua 13:17 Heshbon, and all its cities that are in the plain; Dibon, Bamoth Baal, Beth Baal Meon,
Encyclopedia
BAMOTH; BAMOTH-BAAL
ba'-moth, ba'-moth-ba'-al (bamoth-ba'al, "high places of Baal"): Bamoth is referred to in Numbers 21:19, 20, as a station in the journeyings of Israel North of the Arnon. It is probably the same place as the Bamoth-baal of Numbers 22:41 (Revised Version margin), whither Balak, king of Moab, conducted Balaam to view and to curse Israel. Bamoth-baal is named in Joshua 13:17 as one of the cities given to Reuben. Mesha, on the Moabite Stone, speaks of having "rebuilt" Beth-bamoth.