Atlas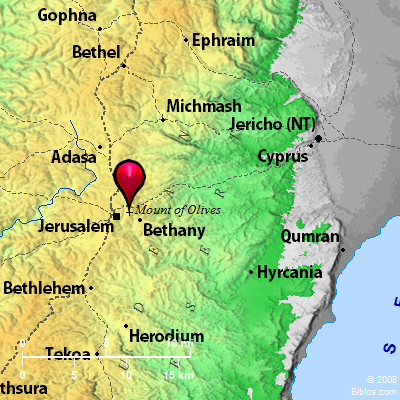 ---
Maps Created using Biblemapper 3.0
Additional data from OpenBible.info
Occurrences
Zechariah 14:5
You shall flee by the valley of my mountains; for the valley of the mountains shall reach to Azel; yes, you shall flee, just like you fled from before the earthquake in the days of Uzziah king of Judah. Yahweh my God will come, and all the holy ones with you.
Encyclopedia
AZEL
a'-zel ('atsel, "noble"):

(2) Azel, a'-zel, the King James Version Azal 'atsel; Asael; (Zechariah 14:5): A place not far from Jerusalem. There may be an echo of the name in that of Wady Yasal, to the right of `Ain el-Loz, in Wady en-Nar.
Strong's Hebrew
H682: Atsel
a descendant of Jonathan