Atlas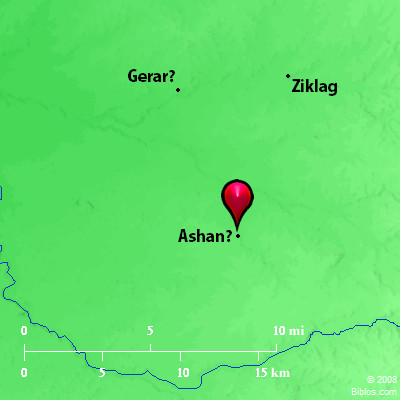 ---
Maps Created using Biblemapper 3.0
Additional data from OpenBible.info
Occurrences
Joshua 15:42
Libnah, Ether, Ashan,
Joshua 19:7 Ain, Rimmon, Ether, and Ashan; four cities with their villages;
1 Chronicles 4:32 Their villages were Etam, and Ain, Rimmon, and Tochen, and Ashan, five cities;
1 Chronicles 6:59 and Ashan with its suburbs, and Beth Shemesh with its suburbs;
Encyclopedia
ASHAN
a'-shan (`ashan): An unknown site in the domain of Judah (Joshua 15:42), possessed by Simeon (Joshua 19:7), and mentioned among the priests' cities in 1 Chronicles 6:59. (44) = Joshua 21:16 (`ayin is a corruption of `ashan). Chorashan (or Borashan), which was probably the site of some reservoir in the Southwest part of Judah (1 Samuel 30:30), is the same as Ashan.
Strong's Hebrew
H6228: Ashan
a place in Judah and later in Simeon