Atlas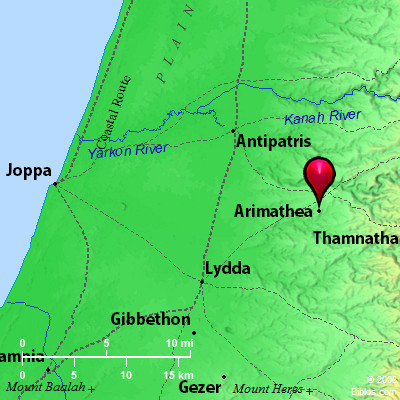 ---
Maps Created using Biblemapper 3.0
Additional data from OpenBible.info
Occurrences
Matthew 27:57
When evening had come, a rich man from Arimathaea, named Joseph, who himself was also Jesus' disciple came.
Mark 15:43 Joseph of Arimathaea, a prominent council member who also himself was looking for the Kingdom of God, came. He boldly went in to Pilate, and asked for Jesus' body.
Luke 23:50 Behold, a man named Joseph, who was a member of the council, a good and righteous man
John 19:38 After these things, Joseph of Arimathaea, being a disciple of Jesus, but secretly for fear of the Jews, asked of Pilate that he might take away Jesus' body. Pilate gave him permission. He came therefore and took away his body.
Encyclopedia
ARIMATHAEA
ar-i-ma-the'-a (Arimathaia): "A city of the Jews," the home of Joseph in whose sepulchre the body of Jesus was laid. Its identity is the subject of much conjecture. The Onomasticon of Eusebius and Jerome identifies it with Ramathaim-Zophim in the hill-country of Ephraim (1 Samuel 11), which is Ramah the birthplace and burial-place of Samuel (1 Samuel 1:19; 1 Samuel 25:1), and places it near Timnah on the borders of Judah and Dan. G. A. Smith thinks it may be the modern Beit Rima, a village on an eminence 2 miles North of Timnah. Others incline to Ramallah, 8 miles North of Jerusalem and 3 miles from Bethel (Matthew 27:57 Mark 15:43 Luke 23:51 John 19:38).

S. F. Hunter
---
ARAMATHE'A, supposed to be 10 ms. e. of Joppa at a little village called Rantieh, but this supposition is not probable.
Strong's Greek
G707: Harimathaia
Arimathea, probably a city near Jer.