Atlas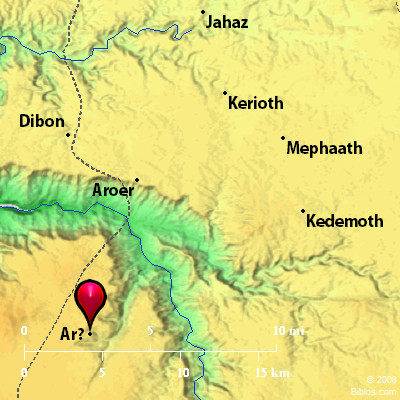 ---
Maps Created using Biblemapper 3.0
Additional data from OpenBible.info
Occurrences
Numbers 21:15
the slope of the valleys that incline toward the dwelling of Ar, leans on the border of Moab."
Numbers 21:28 for a fire has gone out of Heshbon, a flame from the city of Sihon. It has devoured Ar of Moab, The lords of the high places of the Arnon.
Deuteronomy 2:9 Yahweh said to me, "Don't bother Moab, neither contend with them in battle; for I will not give you of his land for a possession; because I have given Ar to the children of Lot for a possession."
Deuteronomy 2:18 "You are this day to pass over Ar, the border of Moab:
Deuteronomy 2:29 as the children of Esau who dwell in Seir, and the Moabites who dwell in Ar, did to me; until I shall pass over the Jordan into the land which Yahweh our God gives us."
Isaiah 15:1 The burden of Moab: for in a night, Ar of Moab is laid waste, and brought to nothing; for in a night Kir of Moab is laid waste, and brought to nothing.
Encyclopedia
AR, AR OF MOAB
ar, mo'-ab (`ar, `ar-mo'abh; Er; Aroer or See ir): The city of Ar is named in a snatch of ancient song (Numbers 21:15), literally "the site of Ar." It is identical with "Ar of Moab" (Numbers 21:28 Isaiah 15:1). This is probably the place called the City of Moab in Numbers 22:36, where the Hebrew is `ir mo'abh. It is probably also intended by "the city that is in the middle of the valley" (Deuteronomy 2:36 Joshua 13:9, 16 2 Samuel 24:5). It lay "on the border of the Arnon, which is in the utmost part of the border" (Numbers 22:36). A possible identification might be the ruin noted by Burckhardt, in the floor of the valley, on a piece of pasture-land below the confluence of the Lejjun and the Mojib. Buhl however thinks that not a city but a Moabite district somewhere in the region south of the Arnon may be intended (GAP, 269).

W. Ewing
---
AR, or AR of MOAB, it was probably the same as Aroer e. of the Dead sea and not to be confounded with Rabbah, as some have done. Its site is not certainly known.
RABBATH-MOAB, see Ar.
Strong's Hebrew
H6144: Ar
a place in Moab