Atlas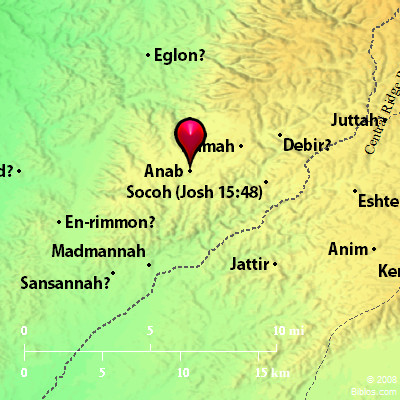 ---
Maps Created using Biblemapper 3.0
Additional data from OpenBible.info
Occurrences
Joshua 11:21
Joshua came at that time, and cut off the Anakim from the hill country, from Hebron, from Debir, from Anab, and from all the hill country of Judah, and from all the hill country of Israel: Joshua utterly destroyed them with their cities.
Joshua 15:50 Anab, Eshtemoh, Anim,
Encyclopedia
ANAB
a'-nab (`anabh, "grapes"; Codex Vaticanus, Anon or Anob): Mentioned in the list of cities which fell to Judah (Joshua 15:50). In the list it follows Debir, from which it was a short distance to the Southwest. It lay about twelve males to the Southwest of Hebron. It was a city of the Anakim, from whom Joshua took it (Joshua 11:21). Its site is now known as the rum `Anab.
---
A'NAB, means place of grapes, now Anab, 14 ms. s.w. of Hebron, 31 ms. from Jerusalem; the formerly supposed site, on the east of the present site, was a mistake of Robinson's guide; it is on the heights west where Conder has discovered the ruins and name; the ruins are 1970 ft. above the Mediterranean and there are two ancient cisterns.
Strong's Hebrew
H6024: Anab
"grape," a place in the hill country of Judah