Atlas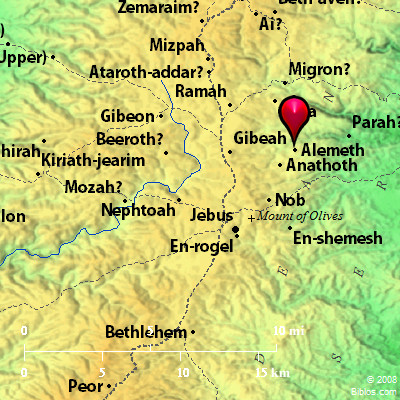 ---
Maps Created using Biblemapper 3.0
Additional data from OpenBible.info
Occurrences
1 Chronicles 6:60
and out of the tribe of Benjamin, Geba with its suburbs, and Allemeth with its suburbs, and Anathoth with its suburbs. All their cities throughout their families were thirteen cities.
Encyclopedia
ALEMETH
al'-e-meth (`alemeth, "concealment"):

(1) the Revised Version (British and American) for Alameth of the King James Version in 1 Chronicles 7:8.

(2) Descendant of Saul and Jonathan, and son of Jehoaddah, 1 Chronicles 8:36, or of Jarah, 1 Chronicles 9:42. The genealogies in the two chapters are identical, and he is the fifth generation after Jonathan.

(3) In some Hebrew texts, Ginsburg and Baer, for ALLEMETH (which see); so in the King James Version.