Atlas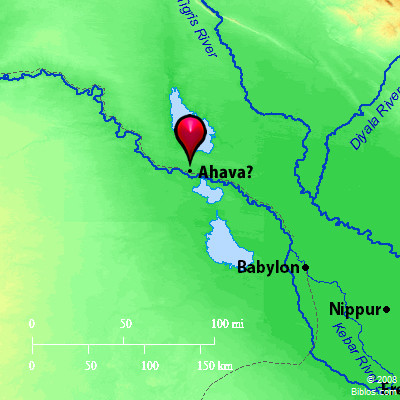 ---
Maps Created using Biblemapper 3.0
Additional data from OpenBible.info
Occurrences
Ezra 8:15
I gathered them together to the river that runs to Ahava; and there we encamped three days: and I viewed the people, and the priests, and found there none of the sons of Levi.
Ezra 8:21 Then I proclaimed a fast there, at the river Ahava, that we might humble ourselves before our God, to seek of him a straight way for us, and for our little ones, and for all our substance.
Ezra 8:31 Then we departed from the river Ahava on the twelfth day of the first month, to go to Jerusalem: and the hand of our God was on us, and he delivered us from the hand of the enemy and the bandit by the way.
Encyclopedia
AHAVA
a-ha'-va ('ahawa'): The river in Babylonia on the banks of which Ezra gathered together the Jews who accompanied him to Jerusalem. At this rendezvous the company encamped for three days to make preparation for the difficult and dangerous journey (Ezra 8:15). On reviewing the people and the priests Ezra found no Levites among them; he therefore sent to Iddo, "the chief at the place Casiphia," a request for ministers for the temple. A number of Levites with 220 Nethinim returned to the rendezvous with the deputation. Ezra had expressed to the king his faith in the protection of God; being, therefore, ashamed to ask for a military escort he proclaimed a fast to seek of God "a straight way." To 12 priests Ezra assigned the care of the offering for the temple in Jerusalem. When all was ready the company "departed from the river Ahava," and journeyed in safety to Jerusalem.

This river, apparently called after a town or district toward which it flowed (Ezra 8:15), remains unidentified, though many conjectures have been made. Rawlinson thinks it is the "Is" of Herodotus (i.79), now called "Hit," which flowed past a town of the same name in the Euphrates basin, 8 days' journey from Babylon. Some identify the district with "Ivvah" (2 Kings 18:34, etc.). Most probably, however, this was one of the numerous canals which intersected Babylonia, flowing from the Euphrates toward a town or district "Ahava." If so, identification is impossible.

S. F. Hunter
---
AHA'VA, see AVAH.
Strong's Hebrew
H163: Ahava
a place and a stream in Babylon