Atlas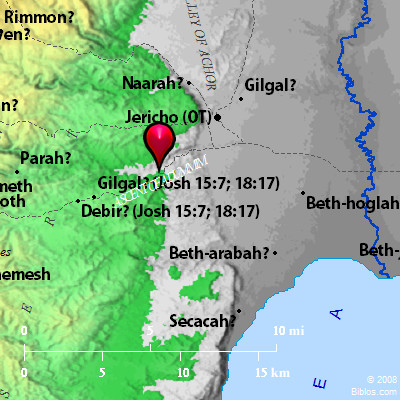 ---
Maps Created using Biblemapper 3.0
Additional data from OpenBible.info
Occurrences
Joshua 15:7
The border went up to Debir from the valley of Achor, and so northward, looking toward Gilgal, that is over against the ascent of Adummim, which is on the south side of the river. The border passed along to the waters of En Shemesh, and ended at En Rogel.
Joshua 18:17 It extended northward, went out at En Shemesh, and went out to Geliloth, which is over against the ascent of Adummim. It went down to the stone of Bohan the son of Reuben.
Encyclopedia
ADUMMIM
a-dum'-im ('adhummim, perhaps "red spots"): "The ascent of Adummim" is one of the numerous landmarks mentioned in defining the northern border of Judah westward from the mouth of the Jordan to Jerusalem, and in defining the southern border of Benjamin eastward from Jerusalem to the mouth of the Jordan (Joshua 15:7; Joshua 18:17). It is identified with the gorge part of the road from Jericho up to Jerusalem. Its present name is Tala`at-ed-Dumm, "ascent of blood." The stone is marked by "curious red streaks," a phenomenon which probably accounts for both the ancient and the modern names, and for other similar names which have been applied to the locality. It is the scene of our Saviour's story of the Good Samaritan, and tradition of course locates the inn to which the Samaritan brought the wounded man (see HGHL, 265).

Willis J. Beecher
---
ADUM'MIM, a steep descent on the road from Jerusalem to Jericho, in wady Kelt, see Achor.
Strong's Hebrew
H131: Adummim
a place between Jer. and Jericho