Atlas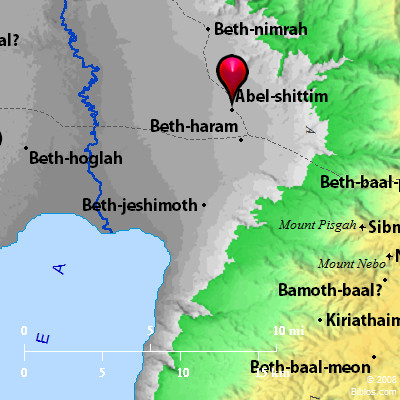 ---
Maps Created using Biblemapper 3.0
Additional data from OpenBible.info
Occurrences
Numbers 33:49
They encamped by the Jordan, from Beth Jeshimoth even to Abel Shittim in the plains of Moab.
Encyclopedia
ABEL-SHITTIM
a'-bel-shit'-tim ('abhel ha-shiTTim, "the meadow of the Acacias"): The name appears only in Numbers 33:49; but the name Shittim is used to denote the same locality (Numbers 25:1 Joshua 2:1; Joshua 3:1 Micah 6:5). The name always has the article, and the best expression of it in English would be "the Acacias." `The valley of the Acacias' (Joel 3:18 (4:18)) is, apparently, a different locality.

For many weeks before crossing the Jordan, Israel was encamped in the vicinity of the Jordan valley, North of the Dead Sea, East of the river. The notices in the Bible, supplemented by those in Josephus and Eusebius and Jerome, indicate that the camping region was many miles in extent, the southern limit being Beth-jeshimoth, toward the Dead Sea, while Abel of the Acacias was the northern limit and the headquarters. The headquarters are often spoken of as East of the Jordan at Jericho (e.g. Numbers 22:1; Numbers 26:3, 63). During the stay there occurred the Balaam incident (Numbers 22-24), and the harlotry with Moab and Midian (Numbers 25) and the war with Midian (Numbers 31), in both of which Phinehas distinguished himself. It was from the Acacias that Joshua sent out the spies, and that Israel afterward moved down to the river for the crossing. Micah aptly calls upon Yahweh's people to remember all that happened to them from the time when they reached the Acacias to the time when Yahweh had brought them safely across the river to Gilgal.

Josephus is correct in saying that Abel of the Acacias is the place from which the Deuteronomic law purports to have been given. In his time the name survived as Abila, a not very important town situated there. He says that it was "sixty furlongs from Abila to the Jordan," that is a little more than seven English miles (Ant., IV, viii, 1 and V, i, 1; BJ, IV, vii, 6). There seems to be a consensus for locating the site at Kefrein, near where the wady of that name comes down into the Jordan valley.

Willis J. Beecher
---
A'BEL-SHIT'TIM, "meadow of the acacias," e. side of the Jordan opposite Jericho and 25 ms. e. of Jerusalem; it is 1200 ft. below the level of the Mediterranean.
Strong's Hebrew
H63: Abel Hashshittim
a place in the lowlands of Moab