Atlas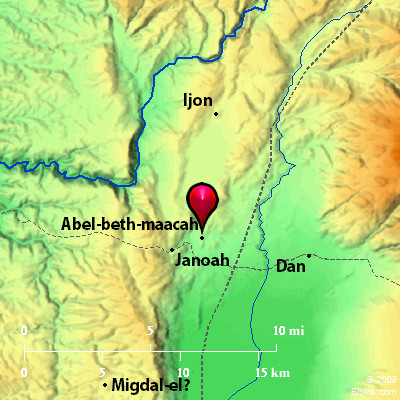 ---
Maps Created using Biblemapper 3.0
Additional data from OpenBible.info
Occurrences
2 Chronicles 16:4
Ben Hadad listened to king Asa, and sent the captains of his armies against the cities of Israel; and they struck Ijon, and Dan, and Abel Maim, and all the storage cities of Naphtali.
Encyclopedia
ABEL-BETH-MAACAH
a'-bel-beth-ma'-a-ka ('abhel beth ma`akhah, "the meadow of the house of Maacah"): The name appears in this form in 1 Kings 15:20 and 2 Kings 15:29. In 2 Samuel 20:15 (Hebrew) it is Abel-beth-hammaacah (Maacah with the article). In 20:14 it appears as Beth-maacah, and in 20:14 and 18 as Abel.

In 2Sa it is spoken of as the city, far to the north, where Joab besieged Sheba, the son of Bichri. In 2 Kings it is mentioned, along with Ijon and other places, as a city in Naphtali captured by Tiglathpileser, king of Assyria. The capture appears also in the records of Tiglath-pileser. In 1 Kings it is mentioned with Ijon and Dan and "all the land of Naphtali" as being smitten by Benhadad of Damascus in the time of Baasha. In the account in Chronicles parallel to this last (2 Chronicles 16:4) the cities mentioned are Ijon, Dan, Abel-maim. Abel-maim is either another name for Abel-beth-maacah, or the name of another place in the same vicinity.

The prevailing identification of Abel-beth-maacah is with Abil, a few miles West of Dan, on a height overlooking the Jordan near its sources. The adjacent region is rich agriculturally, and the scenery and the water supply are especially fine. Abel-maim, "meadow of water," is not an inapt designation for it. Willis J. Beecher
---
A'BEL-MA'IM, "meadow of the waters"; it is a village and ruin 1074, ft. above the Mediterranean, and 103 ms. n. of Jerusalem.
Strong's Hebrew
H66: Abel Mayim
"meadow of water"