Atlas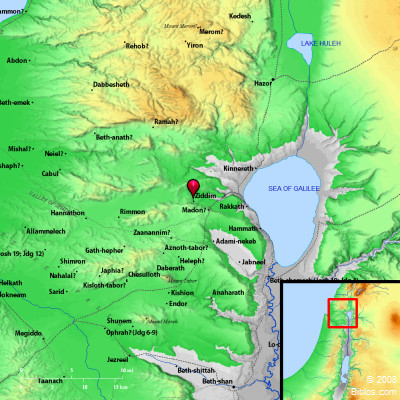 ---
Maps Created using Biblemapper 3.0
Additional data from OpenBible.info
---
You are free to use up to 50 Biblos coprighted maps (small or large) for your website or presentation. Please credit Biblos.com.
Occurrences
Joshua 19:35
The fortified cities were Ziddim, Zer, Hammath, Rakkath, Chinnereth,
Encyclopedia
ZIDDIM
zid'-im (ha-tsiddim; Codex Vaticanus ton Turion; Codex Alexandrinus omits): A fortified city in Naphtali (Joshua 19:35), probably represented by the modern Chattin, about 5 miles Northwest of Tiberias, in the opening of the gorge that breaks down seaward North of Qurun Chattin, the traditional Mount of Beatitudes.
Strong's Hebrew
H6661: Tsiddim
a place in Naphtali