Atlas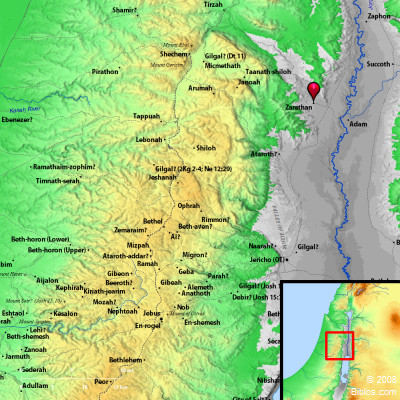 ---
Maps Created using Biblemapper 3.0
Additional data from OpenBible.info
---
You are free to use up to 50 Biblos coprighted maps (small or large) for your website or presentation. Please credit Biblos.com.
Occurrences
Joshua 3:16
that the waters which came down from above stood, and rose up in one heap, a great way off, at Adam, the city that is beside Zarethan; and those that went down toward the sea of the Arabah, even the Salt Sea, were wholly cut off. Then the people passed over right against Jericho.
1 Kings 4:12 Baana the son of Ahilud, in Taanach and Megiddo, and all Beth Shean which is beside Zarethan, beneath Jezreel, from Beth Shean to Abel Meholah, as far as beyond Jokmeam;
1 Kings 7:46 In the plain of the Jordan did the king cast them, in the clay ground between Succoth and Zarethan.
Encyclopedia
ZARETHAN
zar'-e-than (tsarethan): A city, according to Joshua 3:16 (omitted, however, by the Septuagint) near Adam, which is probably to be identified with Tell Damieh at the mouth of the Jabbok. In 1 Kings 4:12 it is mentioned in connefection with Bethshean and said to be "beneath Jezreel." In 1 Kings 7:46, this is said to be at "the ford of Adamah," according to the reading of some, but according to the Massoretic text, "in the clay around between Succoth and Zarethan," where the bronze castings for the temple were made by Solomon's artificers. In 2 Chronicles 4:17, the name appears as Zeredah, which in 1 Kings 11:26 is said to have been the birthplace of Jeroboam, son of Nebat. In Judges 7:22, Gibeon is said to have pursued the Midianites "as far as Bethshittah toward Zererah," which is probably a misreading for Zeredah, arising from the similarity of the Hebrew letters daleth and resh. The place has not been positively identical. From the suggestion that the name means "the great (or lofty) rock," it has without sufficient reason been supposed that it designates the conspicuous peak of Kurn Surtabheh which projects from the mountains of Ephraim into the valley of the Jordan opposite the mouth of the Jabbok.

George Frederick Wright
Strong's Hebrew
H6891: Tsarethan
a city in the Jordan Valley