Atlas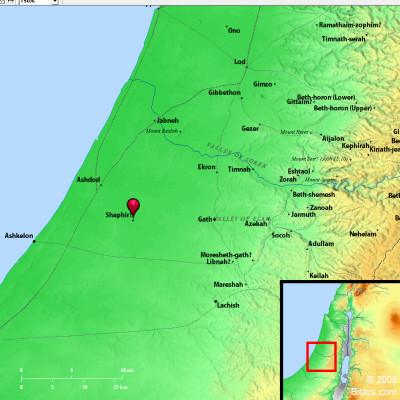 ---
Maps Created using Biblemapper 3.0
Additional data from OpenBible.info
---
You are free to use up to 50 Biblos coprighted maps (small or large) for your website or presentation. Please credit Biblos.com.
Occurrences
Micah 1:11
Pass on, inhabitant of Shaphir, in nakedness and shame. The inhabitant of Zaanan won't come out. The wailing of Beth Ezel will take from you his protection.
Encyclopedia
ZAANAN
za'-a-nan (tsa`anan; Sennaar): A place named by Micah in the Shephelah of Judah (1:11). In this sentence the prophet makes verbal play with the name, as if it were derived from yatsa', "to go forth": "The inhabitant (margin "inhabitress") of tsa'anan is not come forth" (yatse'ah). The place is not identical. It is probably the same as ZENAN.
Strong's Hebrew
H6630: Tsaanan
a place perhaps in the Shephelah of Judah