Atlas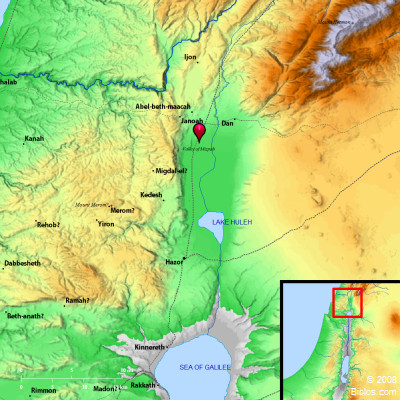 ---
Maps Created using Biblemapper 3.0
Additional data from OpenBible.info
---
You are free to use up to 50 Biblos coprighted maps (small or large) for your website or presentation. Please credit Biblos.com.
Occurrences
Joshua 11:3
to the Canaanite on the east and on the west, and the Amorite, and the Hittite, and the Perizzite, and the Jebusite in the hill country, and the Hivite under Hermon in the land of Mizpah.
Joshua 11:8 Yahweh delivered them into the hand of Israel, and they struck them, and chased them to great Sidon, and to Misrephoth Maim, and to the valley of Mizpeh eastward. They struck them until they left them none remaining.
Encyclopedia
MIZPAH; MIZPEH
miz'-pa, miz'-pe: This name is pointed both ways in the Hebrew, and is found usually with the article. The meaning seems to be "outlook" or "watchtower." It is natural, therefore, to look for the places so named in high positions commanding wide prospects.

(1) (ha-mitspah (Genesis 31:49 Judges 11:11, 34), mitspah (Hosea 5:1), mitspeh ghil`adh (Judges 11:29); Massepha, ten skopian, and other forms): It seems probable that the same place is intended in all these passages, and that it is identical with Ramath-mizpeh of Joshua 13:26. It is the place where Jacob and Laban parted in Mt. Gilead; consequently it lay to the North of Mahanaim. Here was the home of Jephthah, to which he returned after the defeat of the Aremonites, only to realize how his rash vow had brought desolation to his house. It was taken by Judas Maccabeus, who destroyed the inhabitants and burned the city (1 Maccabees 5:35). Jerash, and Kal`at er-Rabad; but these seem all to lie South of any possible site for Mahanaim. A ruined site was discovered by Dr. Schumacher (M und NPDV, 1897, 86), with the name Macfa, which is just the Arabic equivalent of the Hebrew Mitspah. It lies some distance to the Northwest of Jerash and claims consideration in any attempt to fix the site of Mizpah.

(2) ('erets ha-mitspah (Joshua 11:3), biq`ath mitspeh (verse 8); Masseuman, Massephath, and other forms): The "land of Mizpah" and the "valley of Mizpah" may be taken as applying to the same district. It lay on the southwest slopes of Hermon Northeast of the Waters of Merom. The site must be looked for on one of the heights in the region indicated, from which a wide view is obtained. MuTallah, a Druze village standing on a hill to the North of `Abil and East of Nahr el-Chasbany, was suggested by Robinson. The present writer agrees with Buhl (GAP, 240) that the ancient castle above Banias, Kal`at ec-Cubeibeh, occupies a more likely position.

(3) (mitspeh; Maspha): A town in the Shephelah of Judah named with Dilan, Joktheel and Lachish (Tell el-Hesy). Eusebius, Onomasticon mentions a Macfa in the neighborhood of Eleutheropolis, to the North. The identification proposed by Van de Velde and Guerin would suit this description. They would locate Mizeph at Tell ec-Cafiyeh, about 7 1/2 miles Northwest of Beit Jibrin, "a conspicuous hill with a glittering white cliff rising like an isolated block above the adjacent country" (PEFS, 1903, 276). Many identify this site with Gath, but the name and character of the place point rather to identification with Mizpeh, the Blanche Guarde or Alba Specula of the Middle Ages.

(4) (ha-mitspah; Massema, Maspha): A town in the territory of Benjamin (Joshua 18:26). Hither came the men of Israel to deal with the Benjamites after the outrage on the Levite's concubine (Judges 20:1, 3; Judges 21:1, 5, 8). At Mizpah, Samuel gathered his countrymen. While there crying to God in their distress, they were attacked by the Philistines, whom they defeated with great slaughter (1 Samuel 7:5, etc.). Here also Saul, the son of Kish, was chosen king, after which Samuel told the people the "manner of the kingdom" (10:17, etc.). Mizpah was fortified by Asa, king of Judah, with materials which Baasha, king of Israel, had used to fortify Ramah (1 Kings 15:22 2 Chronicles 16:6). When Nebuchadnezzar captured Jerusalem and made Gedaliah, the son of Ahikam, governor of the remnant of the people left in the land of Judah, the governor's residence was fixed at Mizpah (2 Kings 25:23). Here he was joined by Jeremiah, whom Nebuzaradan, captain of the Babylonian guard, had set free. At Mizpah, Ishmael, son of Nathaiah, treacherously slew Gedaliah and many who were with him. Two days later he murdered a company of pilgrims, throwing their dead bodies into the great cistern which Asa had made when strengthening the place against possible attack by Baasha of Samaria. He then made prisoners of the people, including the king's daughters, and attempted to convey them away to the Ammonites, an attempt that was frustrated by Johanan, son of Kareah (Jeremiah 40; Jeremiah 41). Mizpah was the scene of memorable assembly in a day of sore anxiety for Judah, when Judas Maccabeus called the warriors of Judah together for counsel and prayer (1 Maccabees 3:46). From this passage we also learn that the place was an ancient sanctuary-"for in Mizpah there was a place of prayer aforetime for Israel."

It has been proposed to identify Mizpah with Tell Nasbeh, a site on the watershed South of Bireh. The Abbe Raboisson established the fact that Jerusalem can be seen from this point. In this respect it agrees with Maundeville's description. "It is a very fair and delicious place, and it is called Mt. Joy because it gives joy to pilgrims' hearts, for from that place men first see Jerusalem." But Jeremiah 41:10 may be taken as decisive against this identification. Ishmael departed to go east. From Tell Nasbeh this would never have brought him to the great waters that are in Gibeon (PEFS, 1898, 169, 251; 1903, 267). A more probable identification is with Neby Samwil, a village on high ground 4 1/2 miles Northwest of Jerusalem, the traditional burying-place of Samuel. It is 2,935 ft. above sea-level, and 500 ft. higher than the surrounding land. Here the pilgrims coming up by way of Beth-heron from Jaffa, the ancient route, first saw the Holy City. The mosque of the village was formerly a church, dating from Crusading times; and here the tomb of Samuel is shown. If this is the ancient Mizpah, a very slight detour to the North would bring Ishmael to the great waters that are in Gibeon, el-Jib (Gibeon) being only a mile and a quarter distant.

(5) (mitspeh mo'abh "Mizpeh of Moab"; Masepha): A town in Moab to which David took his parents for safety during Saul's pursuit of him (1 Samuel 22:3). It is possibly to be identified with Kir-moab, the modern Kerak, whither David would naturally go to interview the king. But there is no certainty. Possibly we should read "Mizpah" instead of "the hold" in 1 Samuel 22:5.

(6) In 2 Chronicles 20:24, probably we should read "Mizpah" instead of "watch-tower": ha-mitspeh la-midhbar would then point to a Mizpeh of the Wilderness to be sought in the district of Tekoa (20:20).

W. Ewing