Atlas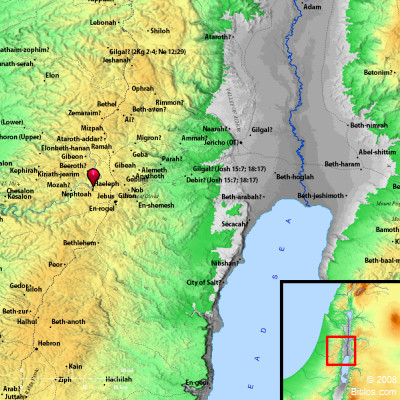 ---
Maps Created using Biblemapper 3.0
Additional data from OpenBible.info
---
You are free to use up to 50 Biblos coprighted maps (small or large) for your website or presentation. Please credit Biblos.com.
Occurrences
Joshua 18:27
Rekem, Irpeel, Taralah,
Encyclopedia
TARALAH
tar'-a-la (tar'alah; Codex Vaticanus Thareela; Codex Alexandrinus Tharala): A town in the territory of Benjamin named between Irpeel and Zelah (Joshua 18:27). Eusebius, Onomasticon (s.v. "Therama") simply says it was in the tribe of Benjamin. In the times of Eusebius and Jerome, therefore, the site was already lost, and has not since been covered.
Strong's Hebrew
H8634: Taralah
a city in Benjamin