Atlas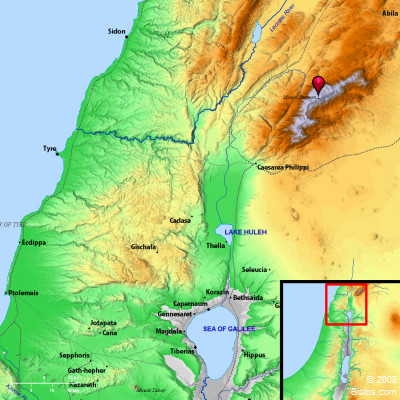 ---
Maps Created using Biblemapper 3.0
Additional data from OpenBible.info
---
You are free to use up to 50 Biblos coprighted maps (small or large) for your website or presentation. Please credit Biblos.com.
Occurrences
Deuteronomy 3:9
(which Hermon the Sidonians call Sirion, and the Amorites call it Senir;)
Jeremiah 18:14 Shall the snow of Lebanon fail from the rock of the field? or shall the cold waters that flow down from afar be dried up?
Encyclopedia
SIRION
sir'-i-on (siryon; Sanior): The name of Mt. Hermon among the Phoenicians (Deuteronomy 3:9). It is given as "Shirion" in Psalm 29:6 (Hebrew "breastplate" or "body armor"). Here it is named with Lebanon. Sirion therefore probably did not denote a particular part of the Hermon Range, as did Senir, but may have been suggested by the conformation of the range itself, as seen from the heights above the Phoenician coast.
---
SIR'ION, a Sidonian name for Mt. Hermon, Deut, 3:9.
Strong's Hebrew
H8303: Siryon
a Sidonian name for Mount Hermon