Atlas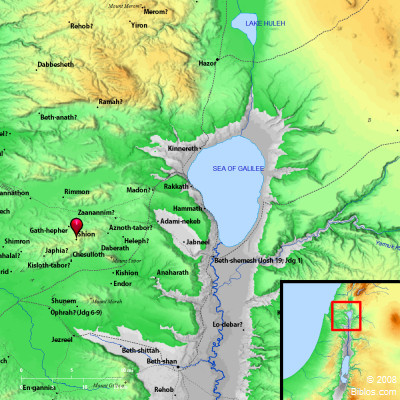 ---
Maps Created using Biblemapper 3.0
Additional data from OpenBible.info
---
You are free to use up to 50 Biblos coprighted maps (small or large) for your website or presentation. Please credit Biblos.com.
Occurrences
Joshua 19:19
Hapharaim, Shion, Anaharath,
Encyclopedia
SHION
shi'-on (shi'on; Codex Vaticanus Siona, Codex Alexandrinus Seian): A town in the territory of Issachar, named with Shunem, Hapharaim and Anaharath (Joshua 19:19). It is possibly identical with Khirbet Sha'in, near `Ain esh-Sha'in, circa 4 miles Northwest of Mt. Tabor.
Strong's Hebrew
H7866: Shion
a place in Issachar