Atlas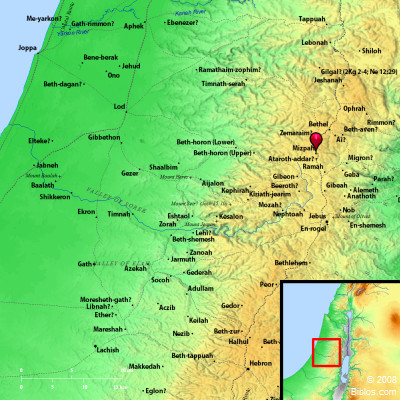 ---
Maps Created using Biblemapper 3.0
Additional data from OpenBible.info
---
You are free to use up to 50 Biblos coprighted maps (small or large) for your website or presentation. Please credit Biblos.com.
Occurrences
1 Samuel 7:12
Then Samuel took a stone, and set it between Mizpah and Shen, and called its name Ebenezer, saying, "Yahweh helped us until now."
Encyclopedia
SHEN
shen (ha-shen, "the tooth" or "peak"; tes palaias): A place named only in 1 Samuel 7:12 to indicate the position of the stone set up by Samuel in connection with the victory over the Philistines, "between Mizpah and Shen." The Septuagint evidently reads yashan, "old." Probably we should here read yeshanah, as in 2 Chronicles 13:19 (OHL, under the word). Then it may be represented by `Ain Sinia, to the North of Beitin.
Strong's Hebrew
H8129: Shen
"tooth," a place near Mizpah