Atlas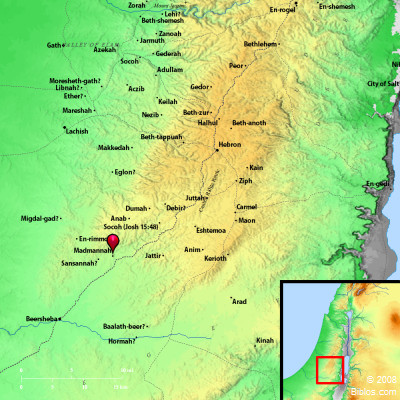 ---
Maps Created using Biblemapper 3.0
Additional data from OpenBible.info
---
You are free to use up to 50 Biblos coprighted maps (small or large) for your website or presentation. Please credit Biblos.com.
Occurrences
Joshua 15:31
Ziklag, Madmannah, Sansannah,
Encyclopedia
SANSANNAH
san-san'-a (cancannah; [Sansanna], or Sethennak): One of the uttermost cities in the Negeb of Judah (Joshua 15:31), identical with Hazar-susah (Joshua 19:5), one of the cities of Simeon, and almost certainly the same as Hazar-susim (1 Chronicles 4:31). It cannot be said to have been identified with any certainty, though Simsim, "a good-sized village with well and pool, surrounded by gardens and having a grove of olives to the north," has been suggested (PEF, III, 260, Sh XX).
Strong's Hebrew
H5578: Sansannah
a place in S. Judah