Atlas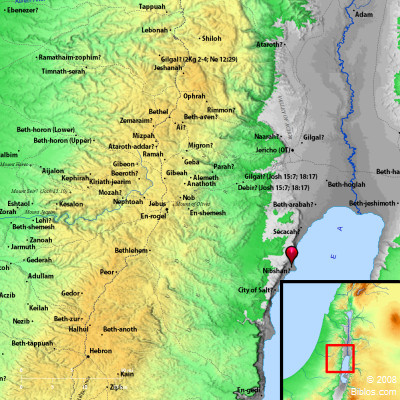 ---
Maps Created using Biblemapper 3.0
Additional data from OpenBible.info
---
You are free to use up to 50 Biblos coprighted maps (small or large) for your website or presentation. Please credit Biblos.com.
Occurrences
Joshua 15:62
Nibshan, the City of Salt, and En Gedi; six cities with their villages.
Encyclopedia
NIBSHAN
nib'-shan (ha-nibhshan; Codex Vaticanus Naphlazon; Codex Alexandrinus Nebsan): A city in the Judean wilderness named between Secacah and the City of Salt (Joshua 15:62). Eusebius, Onomasticon, knows the place but gives no clue to its identification. The site has not been recovered. Wellhausen suggests the emendation of nibhshan to kibhshan, "furnace" (Proleg. 2,344).
Strong's Hebrew
H5044: Nibshan
a place in S. Judah