Atlas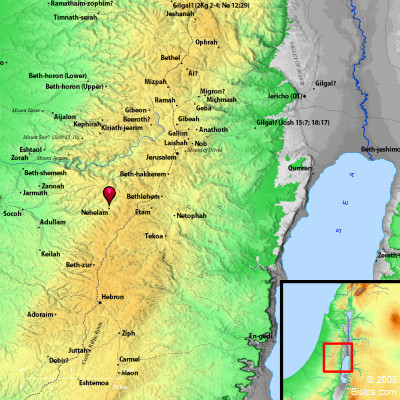 ---
Maps Created using Biblemapper 3.0
Additional data from OpenBible.info
---
You are free to use up to 50 Biblos coprighted maps (small or large) for your website or presentation. Please credit Biblos.com.
Occurrences
Jeremiah 29:24
Concerning Shemaiah the Nehelamite you shall speak, saying,
Jeremiah 29:31 Send to all them of the captivity, saying, Thus says Yahweh concerning Shemaiah the Nehelamite: Because Shemaiah has prophesied to you, and I didn't send him, and he has caused you to trust in a lie;
Jeremiah 29:32 therefore thus says Yahweh, Behold, I will punish Shemaiah the Nehelamite, and his seed; he shall not have a man to dwell among this people, neither shall he see the good that I will do to my people, says Yahweh, because he has spoken rebellion against Yahweh.
Encyclopedia
NEHELAIM
Town of Shemaiah, mentioned in Jeremiah 29.