Atlas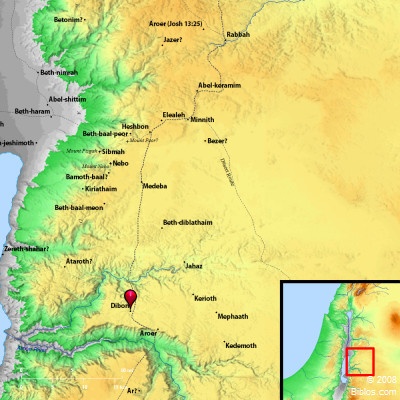 ---
Maps Created using Biblemapper 3.0
Additional data from OpenBible.info
---
You are free to use up to 50 Biblos coprighted maps (small or large) for your website or presentation. Please credit Biblos.com.
Occurrences
Jeremiah 48:2
The praise of Moab is no more; in Heshbon they have devised evil against her: Come, and let us cut her off from being a nation. You also, Madmen, shall be brought to silence: the sword shall pursue you.
Encyclopedia
MADMEN
mad'-men (madhmen; kai pausin pausetai): A town in Moab against which Jeremiah prophesied (48:2). The play upon the words here suggests a possible error in transcription: gam madhmen tiddomi, "Also, Madmen, thou shalt be silenced." The initial "M" of "Madmen" may have arisen by dittography from the last letter of gam. We should then vocalize it as "Dimon," which of course is "Dibon."
Strong's Hebrew
H4086: Madmen
a place in Moab