Atlas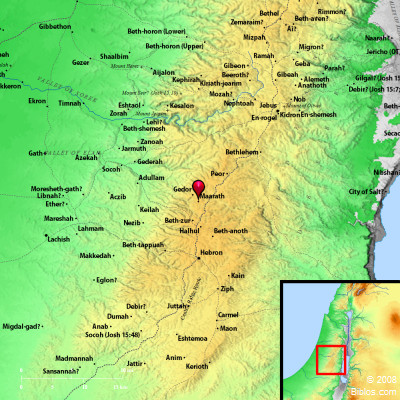 ---
Maps Created using Biblemapper 3.0
Additional data from OpenBible.info
---
You are free to use up to 50 Biblos coprighted maps (small or large) for your website or presentation. Please credit Biblos.com.
Occurrences
Joshua 15:59
Maarath, Beth Anoth, and Eltekon; six cities with their villages.
Encyclopedia
MAARATH
ma'-a-rath (ma`arath): A city in the hill country of Judah, mentioned between Gedor and Beth-anoth (Joshua 15:59). The small village of Beit Ummar upon the watershed, a little to the West of the carriage road to Hebron and about a mile from Khirbet Jedur (Gedor), is a probable site. There are many rock tombs to its East. The village mosque is dedicated to Nebi Matta, i.e. Matthew. See P E F, III, 305, Sh XXI.
Strong's Hebrew
H4638: Maarath
a place in Judah