Atlas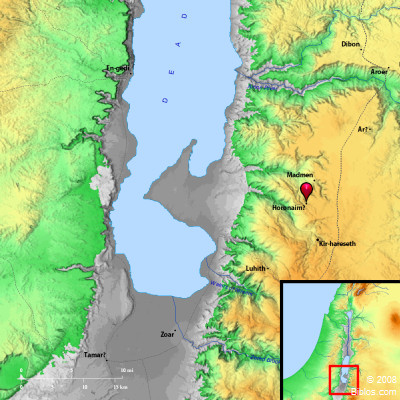 ---
Maps Created using Biblemapper 3.0
Additional data from OpenBible.info
---
You are free to use up to 50 Biblos coprighted maps (small or large) for your website or presentation. Please credit Biblos.com.
Occurrences
Isaiah 15:5
My heart cries out for Moab! Her nobles flee to Zoar, to Eglath Shelishiyah; for they go up by the ascent of Luhith with weeping; for in the way of Horonaim, they raise up a cry of destruction.
Jeremiah 48:5 For by the ascent of Luhith with continual weeping shall they go up; for at the descent of Horonaim they have heard the distress of the cry of destruction.
Encyclopedia
LUHITH, ASCENT OF
lu'-hith, loo'-hith, ma`-aleh ha-luchith): A place named in Isaiah 15:5 Jeremiah 48:5. It is clearly identical with the way, or descent, of Horonaim. Eusebius, Onomasticon places Luhith between Areopolis and Zoar. Some way is intended by which fugitives from the Arabah could reach the uplands of the Moabite plateau. Guthe thinks it may be the road which leads from the district of the ancient Zoar on the eastern shore of the Dead Sea to the uplands through Wady Bene Hammad. Along this track ran also a Roman road. If Horonaim were the higher of the two places, this might account for the way being called the "descent" of Horonaim as going down from that place, and the "ascent" of Luhith as going up thence. Neither place can as yet be identified with certainty.

W. Ewing
Strong's Hebrew
H3872: Luchith or Luchoth
a place in Moab