Atlas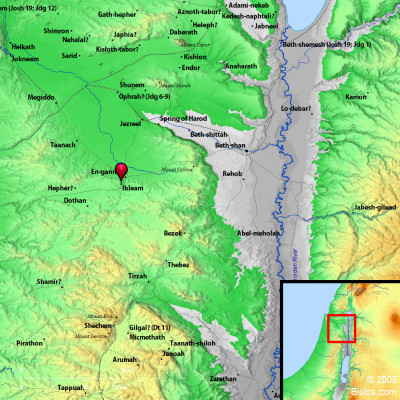 ---
Maps Created using Biblemapper 3.0
Additional data from OpenBible.info
---
You are free to use up to 50 Biblos coprighted maps (small or large) for your website or presentation. Please credit Biblos.com.
Occurrences
2 Kings 9:27
But when Ahaziah the king of Judah saw this, he fled by the way of the garden house. Jehu followed after him, and said, "Strike him also in the chariot!" They struck him at the ascent of Gur, which is by Ibleam. He fled to Megiddo, and died there.
Encyclopedia
GUR; THE ASCENT, OF
gur, a-sent', (ma`-aleh ghur): The place where the servants of Jehu mortally wounded Ahaziah, king of Judah (2 Kings 9:27). The ascent (the King James Version "going up") was hard by Ibleam, the site of which is identified about 1/2 mile South of Jenin.
Strong's Hebrew
H1483: Gur
"sojourning, dwelling," a place in Palestine