Atlas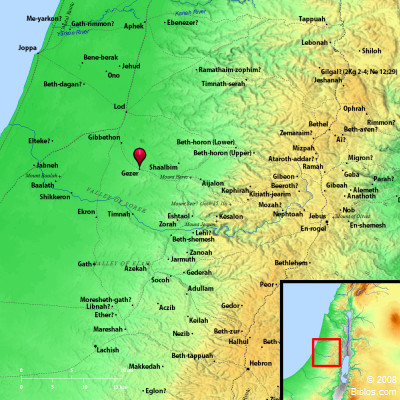 ---
Maps Created using Biblemapper 3.0
Additional data from OpenBible.info
---
You are free to use up to 50 Biblos coprighted maps (small or large) for your website or presentation. Please credit Biblos.com.
Occurrences
2 Samuel 21:18
It came to pass after this, that there was again war with the Philistines at Gob: then Sibbecai the Hushathite killed Saph, who was of the sons of the giant.
2 Samuel 21:19 There was again war with the Philistines at Gob; and Elhanan the son of Jaareoregim the Bethlehemite killed Goliath the Gittite's brother, the staff of whose spear was like a weaver's beam.
Encyclopedia
GOB
gob (gobh): A place mentioned in 2 Samuel 21:18 as the scene of two of David's battles with the Philistines. The name appears here only. In the parallel passage, 1 Chronicles 20:4, it is called Gezer (compare Ant, VII, xii, 2). Certain texts read "Nob" for "Gob," while Syriac and Septuagint read "Gath." The latter is probably correct.
Strong's Hebrew
H1359: Gob
a place in Palestine