Atlas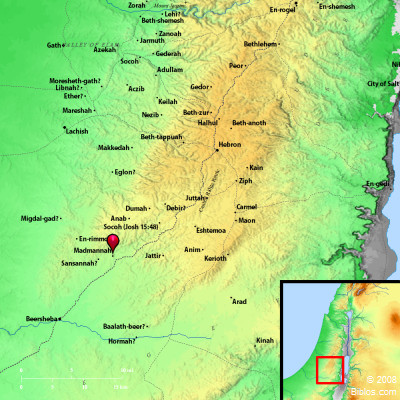 ---
Maps Created using Biblemapper 3.0
Additional data from OpenBible.info
---
You are free to use up to 50 Biblos coprighted maps (small or large) for your website or presentation. Please credit Biblos.com.
Occurrences
1 Chronicles 4:31
and at Beth Marcaboth, and Hazar Susim, and at Beth Biri, and at Shaaraim. These were their cities to the reign of David.
Encyclopedia
BETH-BIRI
beth-bir'-i (the King James Version Beth-birei, beth-bir'-e-i) beth bir'i; oikos Braoumseoreim; 1 Chronicles 4:31 (called in Joshua 19:6, Beth-lebaoth, "abode of lions"): A site belonging to Simeon in the Negeb-unidentified.
Strong's Hebrew
H1011: Beth Biri
"house of a creative one," a place in Palestine