Atlas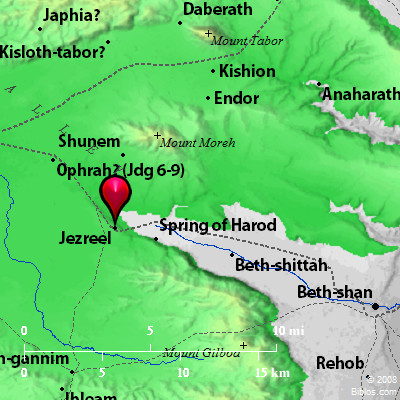 ---
Maps Created using Biblemapper 3.0
Additional data from OpenBible.info
---
You are free to use up to 50 Biblos coprighted maps (small or large) for your website or presentation. Please credit Biblos.com.
Occurrences
1 Chronicles 6:73
and Ramoth with its suburbs, and Anem with its suburbs;
1 Chronicles 6:80 and out of the tribe of Gad, Ramoth in Gilead with its suburbs, and Mahanaim with its suburbs,
Encyclopedia
RAMOTH (1)
ra'-moth:

(1) ra'moth; he Rhamoth: A city in the territory of Issachar assigned to the Gershonite Levitea (1 Chronicles 6:73), mentioned between Daberath and Anem. It seems to correspond to "Remeth" in Joshua 19:21, and to "Jarmuth" in 21:29, and is possibly identical with er-Rameh about 11 miles Southwest of Jenin.

(2) Ramoth of the South.

See RAMAH, (5).

(3) Ramoth in Gilead.

See RAMOTH-GILEAD.
Strong's Hebrew
H7216: Ramoth
"heights," the name of several cities in Isr.