Atlas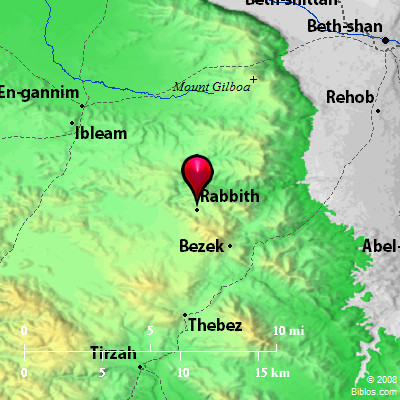 ---
Maps Created using Biblemapper 3.0
Additional data from OpenBible.info
---
You are free to use up to 50 Biblos coprighted maps (small or large) for your website or presentation. Please credit Biblos.com.
Occurrences
Joshua 19:20
Rabbith, Kishion, Ebez,
Encyclopedia
RABBITH
rab'-ith (ha-rabbith; Codex Vaticanus Dabeiron; Codex Alexandrinus Rhabboth): A town in the territory of Issachar (Joshua 19:20) which is probably represented today by Raba, a village in the southern part of the Gilboa range and North of Ibzaq. The "ha" is, of course, the definite article.
Strong's Hebrew
H7245: Rabbith
a place in Issachar