Atlas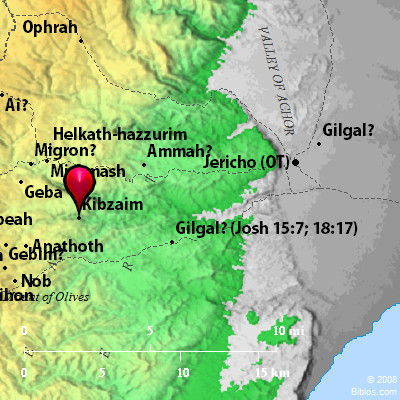 ---
Maps Created using Biblemapper 3.0
Additional data from OpenBible.info
---
You are free to use up to 50 Biblos coprighted maps (small or large) for your website or presentation. Please credit Biblos.com.
Occurrences
Joshua 21:22
Kibzaim with its suburbs, and Beth Horon with its suburbs; four cities.
Encyclopedia
JOKMEAM
jok'-me-am (yoqme`am): A town in Mt. Ephraim assigned to the Kohathite Levites (1 Chronicles 6:68), named along with Gezer and Beth-horon. Its place is taken by Kibzaim in Joshua 21:22 (in Septuagint here the name is omitted). It is mentioned again in 1 Kings 4:12 (the King James Version wrongly "Jokneam"), where it seems to indicate some position to the East of Ephraim. So far no identification is possible.
Strong's Hebrew
H6911: Qibtsayim
"two heaps," a city in Ephraim