Atlas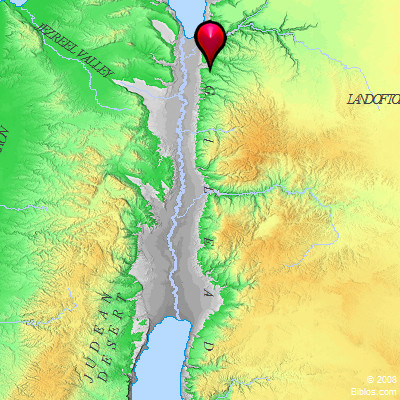 ---
Maps Created using Biblemapper 3.0
Additional data from OpenBible.info
---
You are free to use up to 50 Biblos coprighted maps (small or large) for your website or presentation. Please credit Biblos.com.
Occurrences
Judges 10:5
Jair died, and was buried in Kamon.
Encyclopedia
KAMON
ka'-mon (qamon; the King James Version Camon): The place where Jair was buffed (Judges 10:3-5). It is possibly represented either by Kamm or Kumeim, ruins which lie about 6 and 7 miles respectively to the South-Southeast of Umm Keis. See further HAVVOTH-JAIR. The ruins of Kamm, about 200 yds. square, crown a small elevation, and point to an important place in the past. There are large rock-hewn cisterns to the South. Among the ruins of Kumein, which are not considerable, a few mud huts are built, occupied today by about 200 souls (Schumacher, Northern 'Ajlun, 137).
Strong's Hebrew
H7056: Qamon
burial place of Jair