Atlas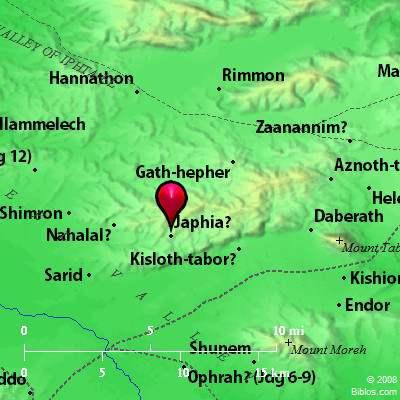 ---
Maps Created using Biblemapper 3.0
Additional data from OpenBible.info
---
You are free to use up to 50 Biblos coprighted maps (small or large) for your website or presentation. Please credit Biblos.com.
Occurrences
Joshua 19:12
It turned from Sarid eastward toward the sunrise to the border of Chisloth Tabor. It went out to Daberath, and went up to Japhia.
Encyclopedia
JAPHIA (2)
ja-fi'-a, jaf'-i-a (yaphia`): A town on the southern boundary of Zebulun named with Chisloth-tabor and Daberath (Joshua 19:12). It is represented by the modern Yafa, about 1 1/2 miles Southwest of Nazareth, near the foot of the hills. It was one of the places fortified by Josephus (Vita, 45; BJ, II, xx, 6).