Atlas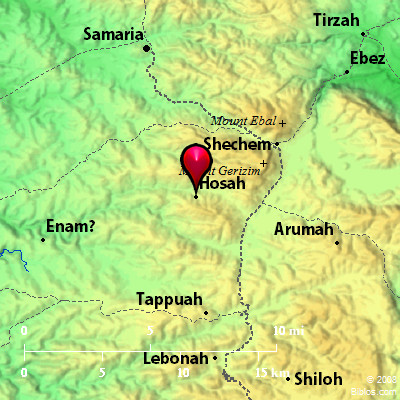 ---
Maps Created using Biblemapper 3.0
Additional data from OpenBible.info
---
You are free to use up to 50 Biblos coprighted maps (small or large) for your website or presentation. Please credit Biblos.com.
Occurrences
Joshua 19:29
The border turned to Ramah, to the fortified city of Tyre; and the border turned to Hosah. It ended at the sea by the region of Achzib;
Encyclopedia
HOSAH
ho'-sa (chocah): A city on the border of Asher, in the neighborhood of Tyre (Joshua 19:29). Septuagint reads Iaseiph, which might suggest identification with Kefr Yasif, to the Northeast of Acre. Possibly, however, as Sayce (HCM, 429) and Moore (Judges, 51) suggest, Hosah may represent the Assyrian Usu. Some scholars think that Usu was the Assyrian name for Palaetyrus. If "the fenced city of Tyre" were that on the island, while the city on the mainland lay at Ras el-`Ain, 30 stadia to the South (Strabo xvi.758), this identification is not improbable.