Atlas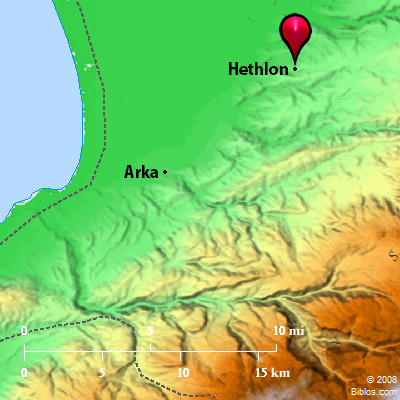 ---
Maps Created using Biblemapper 3.0
Additional data from OpenBible.info
---
You are free to use up to 50 Biblos coprighted maps (small or large) for your website or presentation. Please credit Biblos.com.
Occurrences
Ezekiel 47:15
This shall be the border of the land: On the north side, from the great sea, by the way of Hethlon, to the entrance of Zedad;
Ezekiel 48:1 Now these are the names of the tribes: From the north end, beside the way of Hethlon to the entrance of Hamath, Hazar Enan at the border of Damascus, northward beside Hamath, (and they shall have their sides east and west), Dan, one portion.
Encyclopedia
HETHLON
heth'-lon (chethlon; Peshitta chethron): Name of a place associated with Zedad on the ideal northern boundary of Israel, as given in Ezekiel 47:15 and 48:1, but not named in Numbers 34:8, while the Septuagint evidently translated the text it had. In accordance with the opinion they hold as to the boundary line of Northern Israel, van Kasteren and Buhl seek to identify Hethlon with 'Adlun on the river Qasmiyeh. Much more in harmony with the line of the other border towns given is its identification with Heitala to the Northeast of Tripoli. The "way of Hethlon" would then coincide with the Eleutherus valley, between Homs and the Mediterranean, through which the railway now runs, and to this identification the Septuagint seems to give testimony, indicating some path of "descent" from the Biqa'a.

W. M. Christie
Strong's Hebrew
H2855: Chethlon
a place in Northern Palestine