Atlas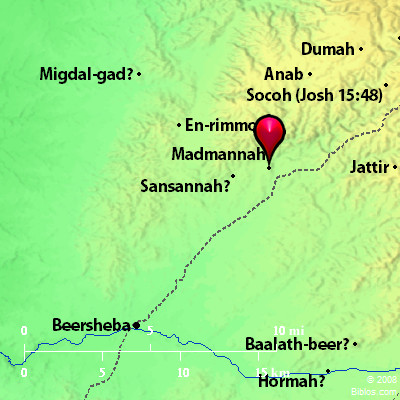 ---
Maps Created using Biblemapper 3.0
Additional data from OpenBible.info
---
You are free to use up to 50 Biblos coprighted maps (small or large) for your website or presentation. Please credit Biblos.com.
Occurrences
1 Chronicles 4:31
and at Beth Marcaboth, and Hazar Susim, and at Beth Biri, and at Shaaraim. These were their cities to the reign of David.
Encyclopedia
MADMANNAH
mad-man'-a (madhmannah; Septuagint: Codex Vaticanus Macharim; Codex Alexandrinus Bedebena (Joshua 15:31); Codex Vaticanus Marmena; Codex Alexandrinus Madmena (1 Chronicles 2:49)): This town lay in the Negeb of Judah and is mentioned with Hormah and Ziklag. It is represented in Joshua 19:5, etc., by Beth-marcaboth. Umm Deimneh, 12 miles North of Beersheba, has been proposed on etymological grounds (PEF, III, 392, 399, Sh XXIV).
Strong's Hebrew
H2702: Chatsar Susim
"village of horses," a place in Simeon