Atlas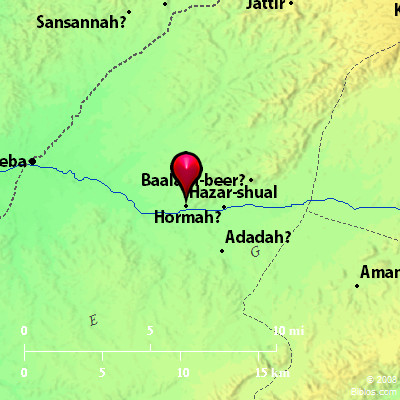 ---
Maps Created using Biblemapper 3.0
Additional data from OpenBible.info
---
You are free to use up to 50 Biblos coprighted maps (small or large) for your website or presentation. Please credit Biblos.com.
Occurrences
Joshua 15:28
Hazar Shual, Beersheba, Biziothiah,
Joshua 19:3 Hazar Shual, Balah, Ezem,
1 Chronicles 4:28 They lived at Beersheba, and Moladah, and Hazarshual,
Nehemiah 11:27 and in Hazar Shual, and in Beersheba and its towns,
Encyclopedia
HAZAR-ADDAR; HAZAR-ENAN; HAZAR-GADDAH; HAZAR-HATTICON; HAZAR-MAVETH; HAZAR-SHUAL; HAZAR-SUSA; HAZAR-SUSIM
ad'-ar; e'-nan; gad'-a; hat'-i-kon; ma'-veth; shoo'-al; su'-sa; su'-sim.

See HAZAR.
Strong's Hebrew
H2705: Chatsar Shual
"village of the fox," a place in S. Judah