Atlas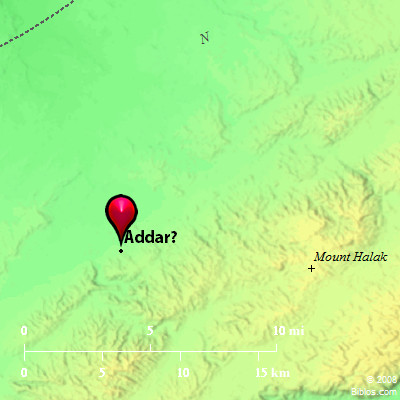 ---
Maps Created using Biblemapper 3.0
Additional data from OpenBible.info
---
You are free to use up to 50 Biblos coprighted maps (small or large) for your website or presentation. Please credit Biblos.com.
Occurrences
Numbers 34:4
and your border shall turn about southward of the ascent of Akrabbim, and pass along to Zin; and the goings out of it shall be southward of Kadesh Barnea; and it shall go forth to Hazar Addar, and pass along to Azmon;
Encyclopedia
ADDAR
ad'-ar ('addar, "glorious"): See ARD

(1) A grandson of Benjamin, sometimes counted as one of his sons (1 Chronicles 8:3).

(2) A town on the southern border of Judah (Joshua 15:3, the King James Version "Adar"). The same as Hazar-addar (Numbers 34:4).
---
HAZAR-AD'DAR, called Adar in Josh. 15:3, it is probable that its site is at ain el Kudeirat, between 60 and 70 ms. s.w. of the Dead Sea.
Strong's Hebrew
H2692: Chatsar-addar
a place on the S. border of Canaan