Atlas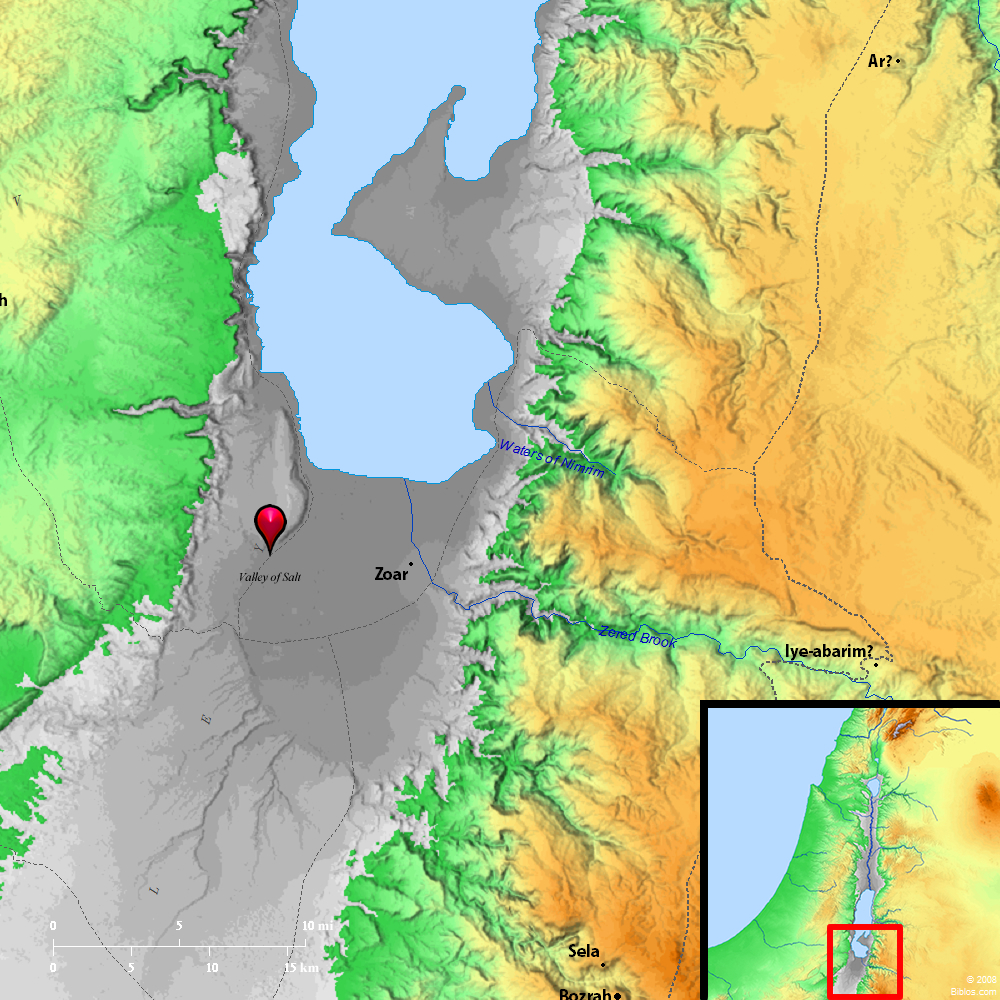 ---
Maps Created using Biblemapper 3.0
Additional data from OpenBible.info
---
You are free to use up to 50 Biblos coprighted maps (small or large) for your website or presentation. Please credit Biblos.com.
Occurrences
2 Samuel 8:13
David got him a name when he returned from smiting the Syrians in the Valley of Salt, even eighteen thousand men.
2 Kings 14:7 He killed of Edom in the Valley of Salt ten thousand, and took Sela by war, and called its name Joktheel, to this day.
1 Chronicles 18:12 Moreover Abishai the son of Zeruiah struck of the Edomites in the Valley of Salt eighteen thousand.
2 Chronicles 25:11 Amaziah took courage, and led forth his people, and went to the Valley of Salt, and struck of the children of Seir ten thousand.
Encyclopedia
SALT, VALLEY OF
(ge' ha-melach): The scene of battles, firstly, between David or his lieutenant Abishai and the Edomites (2 Samuel 8:13 1 Chronicles 18:12 Psalm 60, title), and later between Amaziah and these same foes (2 Kings 14:7 2 Chronicles 25:11). It is tempting to connect this "Valley of Salt" with es Sebkhah, the marshy, salt-impregnated plain which extends from the southern end of the Dead Sea to the foot of the cliffs, but in its present condition it is an almost impossible place for a battle of any sort. The ground is so soft and spongy that a wide detour around the edges has to be made by those wishing to get from one side to the other. It is, too, highly probable that in earlier times the whole of this low-lying area was covered by the waters of the Dead Sea. It is far more natural to identify ge' ha-melach with the Wady el-Milch ("Valley of Salt"), one of the three valleys which unite at Beersheba to form the Wady ec-Ceba`. These valleys, el-Milch and ec-Ceba, together make a natural frontier to Canaan.

E. W. G. Masterman