Atlas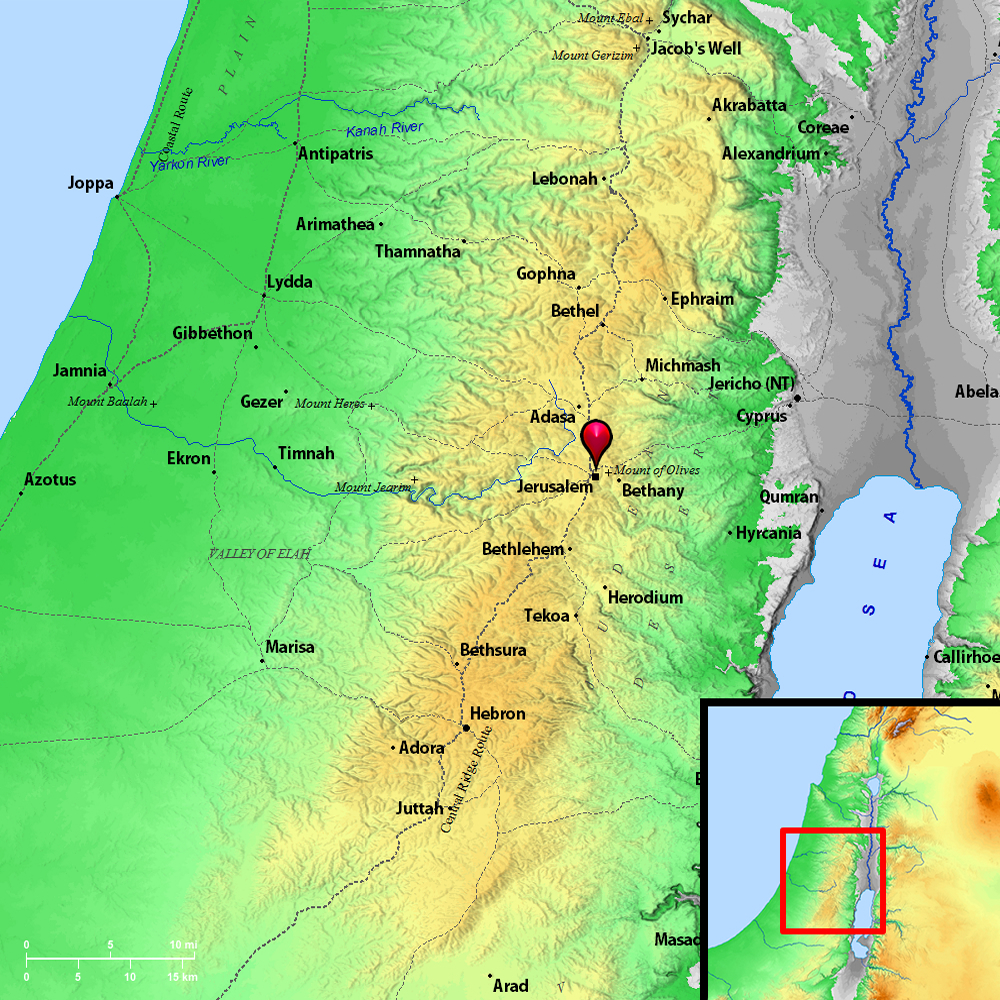 ---
Maps Created using Biblemapper 3.0
Additional data from OpenBible.info
---
You are free to use up to 50 Biblos coprighted maps (small or large) for your website or presentation. Please credit Biblos.com.
Occurrences
Nehemiah 3:1
Then Eliashib the high priest rose up with his brothers the priests, and they built the sheep gate; they sanctified it, and set up its doors; even to the tower of Hammeah they sanctified it, to the tower of Hananel.
Nehemiah 12:39 and above the gate of Ephraim, and by the old gate, and by the fish gate, and the tower of Hananel, and the tower of Hammeah, even to the sheep gate: and they stood still in the gate of the guard.
Jeremiah 31:38 Behold, the days come, says Yahweh, that the city shall be built to Yahweh from the tower of Hananel to the gate of the corner.
Zechariah 14:10 All the land will be made like the Arabah, from Geba to Rimmon south of Jerusalem; and she will be lifted up, and will dwell in her place, from Benjamin's gate to the place of the first gate, to the corner gate, and from the tower of Hananel to the king's winepresses.
Encyclopedia
HANANEL, THE TOWER OF
ban'-an-el (chanan'el, "El (God) is gracious"; the King James Version Hananeel, ha-nan'e-el): A tower in the walls of Jerusalem adjoining (Nehemiah 3:1; Nehemiah 12:39) the tower of HAMMEAH (which see). The company of Levites coming from the West passed "by the fish gate, and the tower of Hananel, and the tower of Hammeah, even unto the sheep gate" (Nehemiah 12:39). In Jeremiah 31:38 it is foretold "that the city shall be built to Yahweh from the tower of Hananel unto the gate of the corner"-apparently the whole stretch of North wall. In Zechariah 14:10 it says Jerusalem "shall dwell in her place, from Benjamin's gate unto the place of the first gate, unto the corner gate, and from the tower of Hananel unto the king's winepresses." These last were probably near Siloam, and the distance "from the tower of Hananel unto the king's winepresses" describes the greatest length of the city from North to South. All the indications point to a tower, close to the tower of Hammeah, near the Northeast corner, a point of the city always requiring special fortification and later the sites successively of the Baris and of the Antonia.

See JERUSALEM.

E. W. G. Masterman