Atlas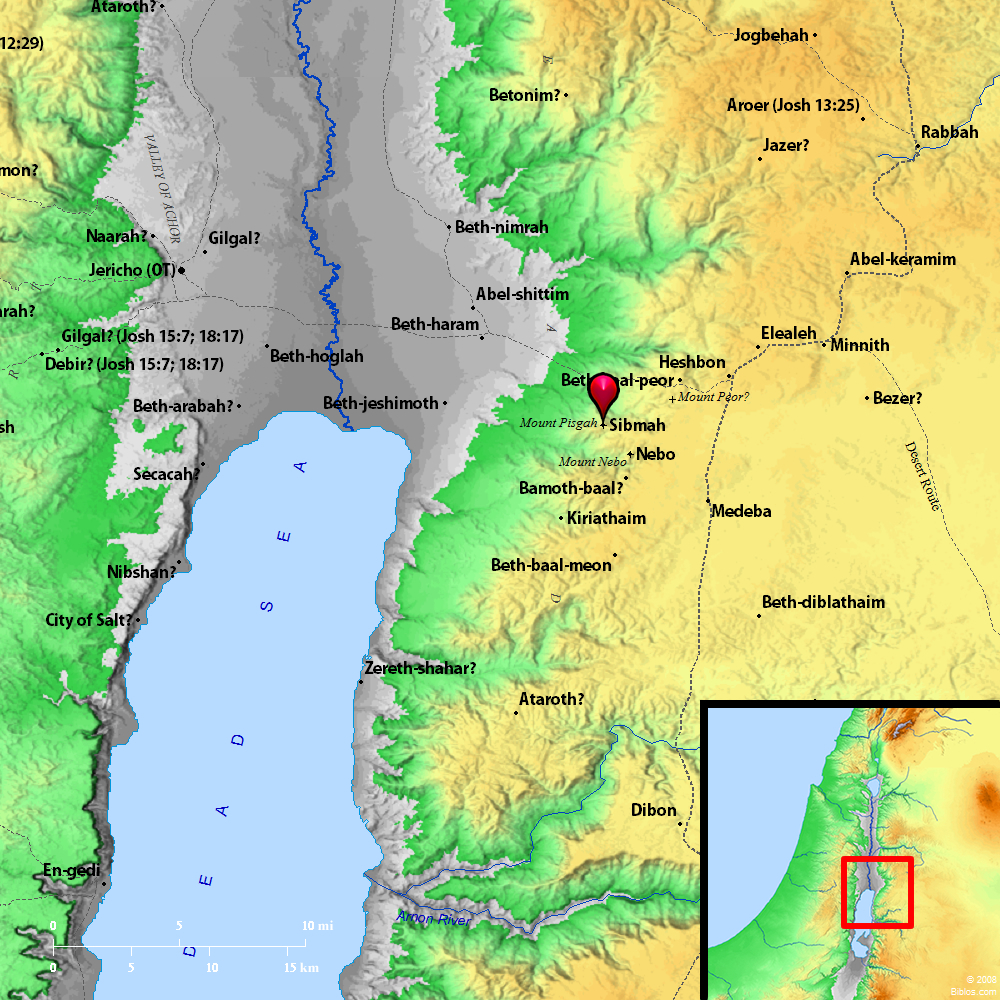 ---
Maps Created using Biblemapper 3.0
Additional data from OpenBible.info
---
You are free to use up to 50 Biblos coprighted maps (small or large) for your website or presentation. Please credit Biblos.com.
Occurrences
Numbers 32:38
and Nebo, and Baal Meon, (their names being changed), and Sibmah: and they gave other names to the cities which they built.
Joshua 13:19 Kiriathaim, Sibmah, Zereth Shahar in the mount of the valley,
Isaiah 16:8 For the fields of Heshbon languish with the vine of Sibmah. The lords of the nations have broken down its choice branches, which reached even to Jazer, which wandered into the wilderness. Its shoots were spread abroad. They passed over the sea.
Isaiah 16:9 Therefore I will weep with the weeping of Jazer for the vine of Sibmah. I will water you with my tears, Heshbon, and Elealeh: for on your summer fruits and on your harvest the battle shout has fallen.
Jeremiah 48:32 With more than the weeping of Jazer will I weep for you, vine of Sibmah: your branches passed over the sea, they reached even to the sea of Jazer: on your summer fruits and on your vintage the destroyer is fallen.
Encyclopedia
SIBMAH
sib'-ma.

See SEBAM.
SEBAM
(sebham; Sebama; the King James Version Shebam):

A town in the upland pasture land given to the tribes of Reuben and Gad. It is named along with Heshbon, Elealeh and Nebo (Nu 32:3). It is probably the same place as Sibmah (the King James Version "Shibmah") in Nu 32:38 (so also Josh 13:19). In the time of Isaiah and Jeremiah it was a Moabite town, but there is no record of how or when it was taken from Israel. It appears to have been famous for the luxuriance of its vines and for its summer fruits (Isa 16:8; Jer 48:32). Eusebius (in Onomasticon) calls it a city of Moab in the land of Gilead which fell to the tribe of Reuben. Jerome (Comm. in Isa 5) says it was about 500 paces from Heshbon, and he describes it as one of the strong places of that region. It may be represented by the modern Simia, which stands on the south side of Wady Chesban, about 2 miles from Chesban. The ancient ruins are considerable, with large sarcophagi; and in the neighboring rock wine presses are cut (PEFM, "Eastern Palestine," 221).
W. Ewing

Strong's Hebrew

H7643: Sebam

a place in Moab