Atlas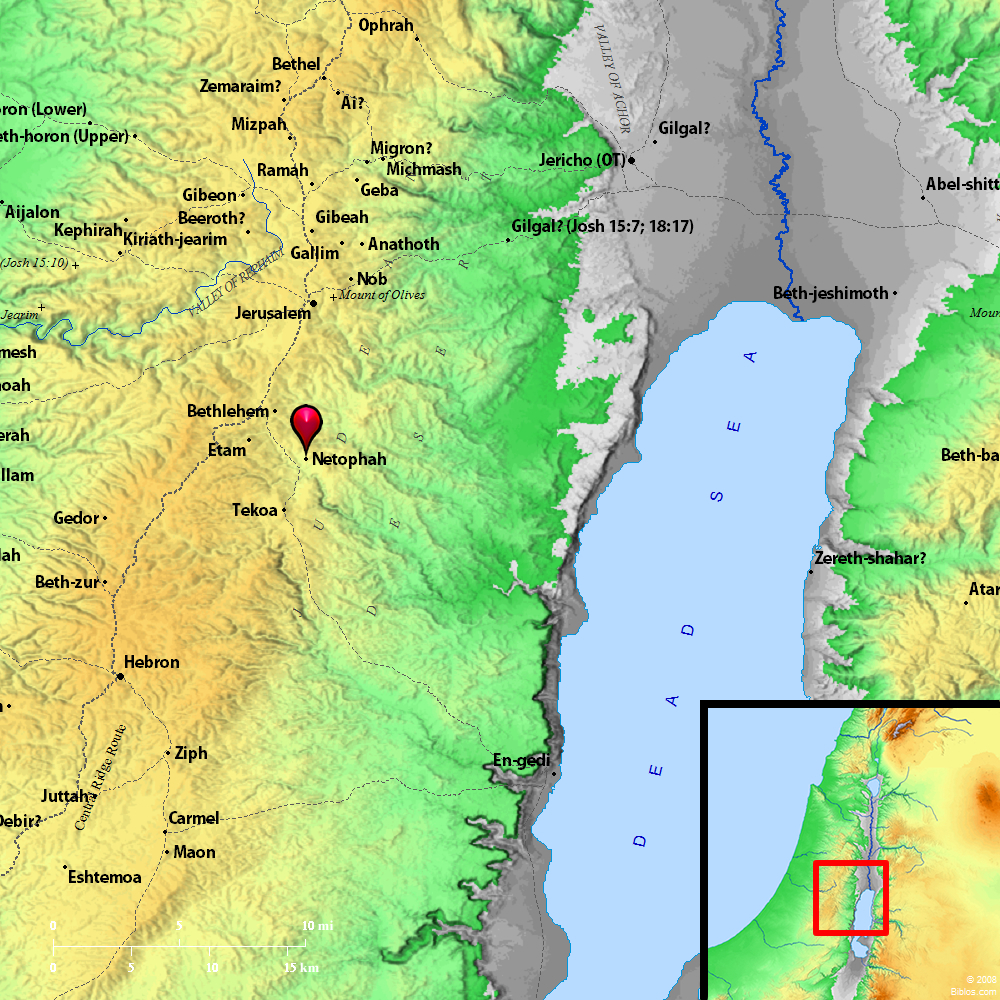 ---
Maps Created using Biblemapper 3.0
Additional data from OpenBible.info
---
You are free to use up to 50 Biblos coprighted maps (small or large) for your website or presentation. Please credit Biblos.com.
Occurrences
2 Samuel 23:28
Zalmon the Ahohite, Maharai the Netophathite,
2 Samuel 23:29 Heleb the son of Baanah the Netophathite, Ittai the son of Ribai of Gibeah of the children of Benjamin,
1 Chronicles 11:30 Maharai the Netophathite, Heled the son of Baanah the Netophathite,
1 Chronicles 27:13 The tenth captain for the tenth month was Maharai the Netophathite, of the Zerahites: and in his division were Twenty-four thousand.
Ezra 2:22 The men of Netophah, fifty-six.
Nehemiah 7:26 The men of Bethlehem and Netophah, one hundred eighty-eight.
Encyclopedia
NETOPHAH
ne-to'-fa (neTophah; Septuagint Netopha, Nephota, and other variants): The birthplace of two of David's heroes, Maharai and Heleb (2 Samuel 23:28, 29), also of Seraiah the son of Tanhumeth the Netophathite, one of the captains who came to offer allegiance to Gedaliah (2 Kings 25:23 Jeremiah 40:8). "The villages of the Netophathites" are mentioned (1 Chronicles 9:16) as the dwellings of certain Levites and (Nehemiah 12:28, the King James Version "Netophathi") of certain "sons of the singers."

The first mention of the place itself is in Ezra 2:22 Nehemiah 7:26; 1Es 5:18 (the Revised Version (British and American) "Netophas"), where we have parallel lists of the exiles returning from Babylon under Zerubbabel; the place is mentioned between Bethlehem and Anathoth and in literary association with other cities in the mountains of Judah, e.g. Gibeon, Kiriath-jearim, Chephereh and Beeroth. In this respect it is most plausible to identify it with NEPHTOAH (which see), although the disappearance of the terminal guttural in the latter creates a difficulty. Conder has suggested a site known as Khirbet UmmToba, Northeast of Bethlehem, an ancient site, but not apparently of great importance. Beit Nettif, an important village on a lofty site in the Shephelah near the "Vale of Elah," also appears to have an echo of the name, and indeed may well be the Beth Netophah of the Mishna (Shebhu`oth, ix0.5; Neubauer, Geogr., 128), but the position does not seem to agree at all with that of the Old Testament Netophah. For Khirbet Umm-Toba see Palestine Exploration Fund, III, 128; for Beit Nettif, Palestine Exploration Fund, III, 24; RBR, II, 17 f; both Sh XVII.

E. W. G. Masterman
Strong's Hebrew
H5199: Netophah
a place in Judah