Atlas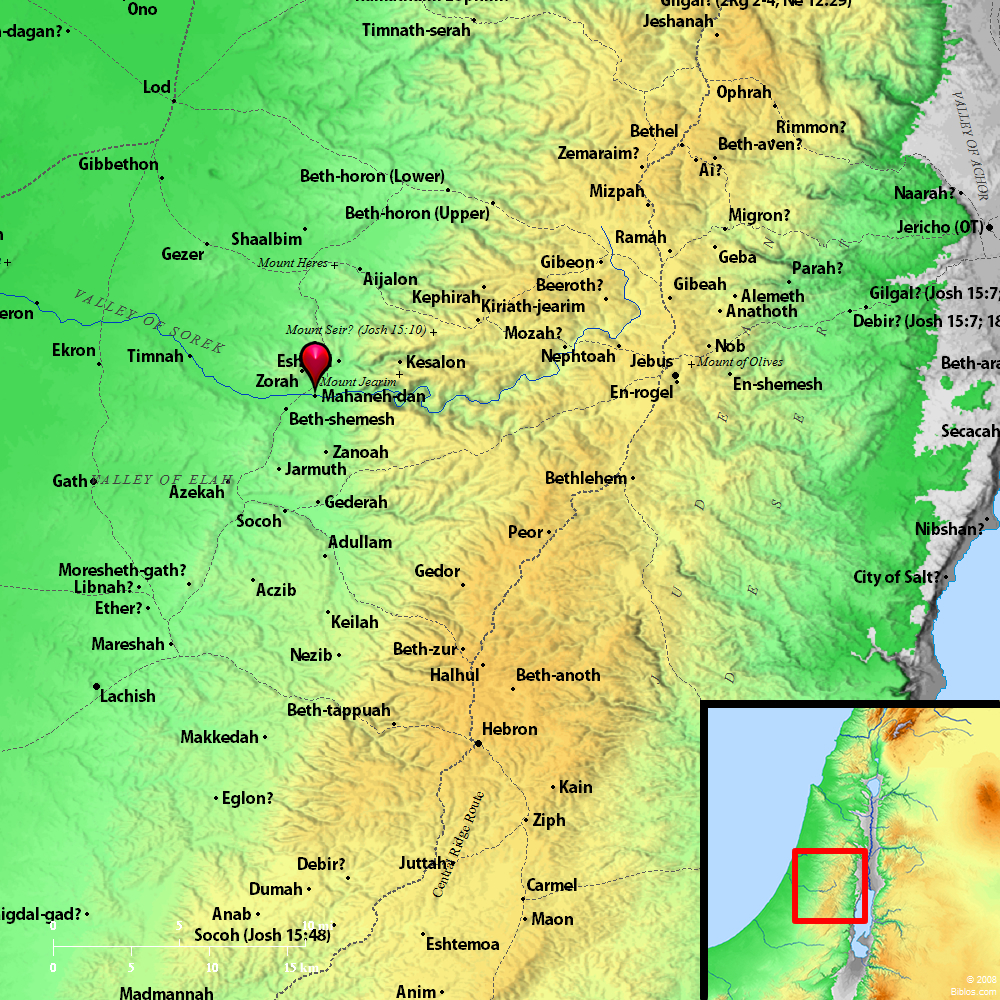 ---
Maps Created using Biblemapper 3.0
Additional data from OpenBible.info
---
You are free to use up to 50 Biblos coprighted maps (small or large) for your website or presentation. Please credit Biblos.com.
Occurrences
Judges 13:25
The Spirit of Yahweh began to move him in Mahaneh Dan, between Zorah and Eshtaol.
Judges 18:12 They went up, and encamped in Kiriath Jearim, in Judah: therefore they called that place Mahaneh Dan, to this day; behold, it is behind Kiriath Jearim.
Encyclopedia
MAHANEH-DAN
ma'-ha-ne-dan (machaneh-dhan; parembole Dan): This place is mentioned twice: in Judges 13:25 (the King James Version "the camp of Dan"), and Judges 18:12. In Mahaneh-dan, between Zorah and Eshtaol, the spirit of the Lord began to move Samson. Here the 600 marauders of Dan, coming from Zorah and Eshtaol, encamped behind Kiriath-jearim. It has been thought that these two statements contradict each other; or at least that they cannot both apply to the same place. But if we accept the identification of Zorah with Surah, and of Eshtaol with Eshu`, which there seems no reason to question; and if, further, we identify Kiriath-jearim with Khirbet Erma, which is at least possible, the two passages may be quite reconciled. Behind Kiriath-jearim, that is West of Khirbet Erma, runs the Vale of Sorek, on the north bank of which, about 2 miles apart, stand Zorah and Eshtaol; the former 3 1/2 miles, the latter 2 1/2 miles fron khirbet Erma. No name resembling Mahanehdan has yet been recovered; but the place may have lain within the area thus indicated, so meeting the conditions of both passages, whether it was a permanent settlement, or derived its name only from the incident mentioned in Judges 18:12.

W. Ewing
Strong's Hebrew
H4265: Machaneh-dan
"camp of Dan," a place where the Danites stayed