Atlas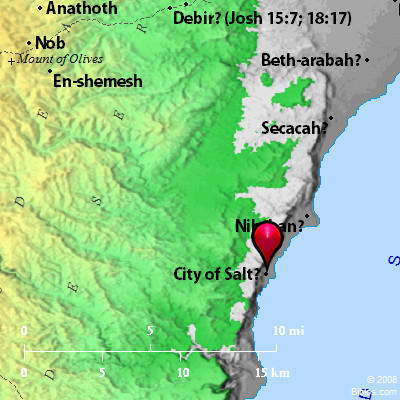 ---
Maps Created using Biblemapper 3.0
Additional data from OpenBible.info
---
You are free to use up to 50 Biblos coprighted maps (small or large) for your website or presentation. Please credit Biblos.com.
Occurrences
Joshua 15:62
Nibshan, the City of Salt, and En Gedi; six cities with their villages.
Encyclopedia
SALT, CITY OF
(`ir ha-melach; Codex Alexandrinus hai pol (e)is halon): One of the six cities in the wilderness of Judah mentioned between Nibshan and Engedi (Joshua 15:62). The site is very uncertain. The large and important Tell el-Milch (i.e. "the salt hill"), on the route from Hebron to Akaba, is possible.