Atlas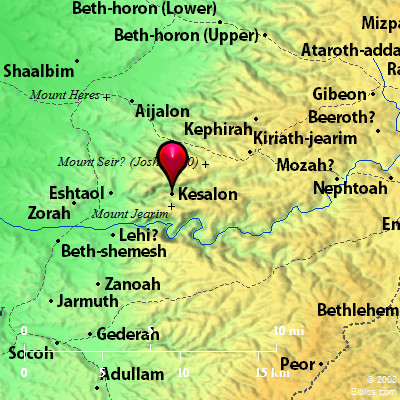 ---
Maps Created using Biblemapper 3.0
Additional data from OpenBible.info
---
You are free to use up to 50 Biblos coprighted maps (small or large) for your website or presentation. Please credit Biblos.com.
Occurrences
Joshua 15:10
and the border turned about from Baalah westward to Mount Seir, and passed along to the side of Mount Jearim on the north (the same is Chesalon), and went down to Beth Shemesh, and passed along by Timnah;
Encyclopedia
CHESALON
kes'-a-lon (kecalon; Chaslon, Chasalon): One of the cities on the Northern boundary of Judah (Joshua 15:10). In the 4th century it was a "very large village." It is now Kesla, 2,087 ft. above sea-level, a small village perched on a mountain ridge to the South of Wady el Humar. See Palestine Exploration Fund, III, 25, 26; Sh XVII.
---
CHESALON (pron. kes'alon), now Kesla, 10 ms. due w. from Jerusalem.
Strong's Hebrew
H3693: Kesalon
a place on the border of Judah