Atlas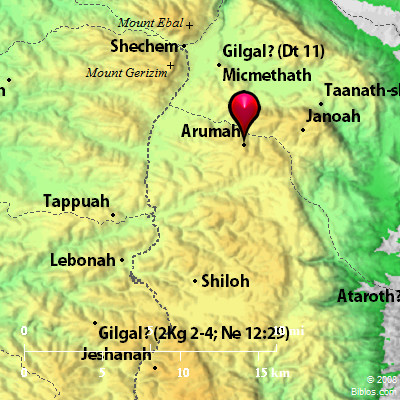 ---
Maps Created using Biblemapper 3.0
Additional data from OpenBible.info
---
You are free to use up to 50 Biblos coprighted maps (small or large) for your website or presentation. Please credit Biblos.com.
Occurrences
Judges 9:41
Abimelech lived at Arumah: and Zebul drove out Gaal and his brothers, that they should not dwell in Shechem.
Encyclopedia
ARUMAH
a-roo'-ma (arumah, "lofty"): The town in which Abimelech, the son of Jerubbaal (Gideon), dwelt when driven from Shechem (Judges 9:41). The ruins El-Ormeh, 6 miles Southeast of Shechem, may be on the site, though its position is not known with certainty.
Strong's Hebrew
H725: Arumah
a place near Shechem